5 Best Cryptocurrencies To Buy At Low Prices July 2021 Week 1
The cryptocurrency market is inching upwards. After sinking to $1.3 trillion on June 23, its total value has climbed to $1.5 trillion. This is an increase of around 15% in two weeks, led by the likes of ethereum (ETH), cardano (ADA) and uniswap (UNI). However, while certain coins have risen strongly in recent days, it's still possible to buy some on the cheap. That's why we've picked the 5 best cryptocurrencies to buy at low prices. This list covers coins with potential to rise strongly in both the short- and medium-term.
5 Best Cryptocurrencies To Buy At Low Prices
Bitcoin (BTC)
Bitcoin (BTC) has slightly underperformed the rest of the market. At nearly $35,000, it has risen by a modest 1.7% in the past 24 hours and 1% in the past week. It's also up by 10% in the past fortnight, while remaining up by more than 250% in the past year.
Yes, $35,000 might seem an awful lot of money for a cryptocurrency. Nonetheless, bitcoin arguably remains very cheap compared to its potential longer term value. As we've noted previously, a recent report from Pantera Capital found that bitcoin is 36% below its 11-year trend line. In fact, it was 36% below its 11-year trend on June 14, when it stood at nearly $40,000. So now it's 44% below where its 11-year price history suggests it should be.
And make no mistake, bitcoin is attracting more external interest than any other cryptocurrency. Most recently, digital asset management firm NYDIG teamed up with NCR to give customers of around 650 US banks and credit unions the ability to buy BTC. At the same time, El Salvador's embrace of bitcoin remains a big talking point. As does the plans of Mexican billionaire Ricardo Salinas Pliego to open up the bank he owns — Banco Azteca — to BTC.
In other words, there's an argument that bitcoin is very cheap right now.
Internet Computer (ICP)
Internet computer token (ICP) is one of the best cryptocurrencies to buy at low prices right now. It's priced at only $48, which is 93% below its ATH of $700. This represents the biggest decline of any of the top 20 cryptocurrencies. However, despite falling dramatically from its May 10 record high, it has begun rebounding recently. It's up by 31% in the past 14 days, making it one of crypto's best performers right now.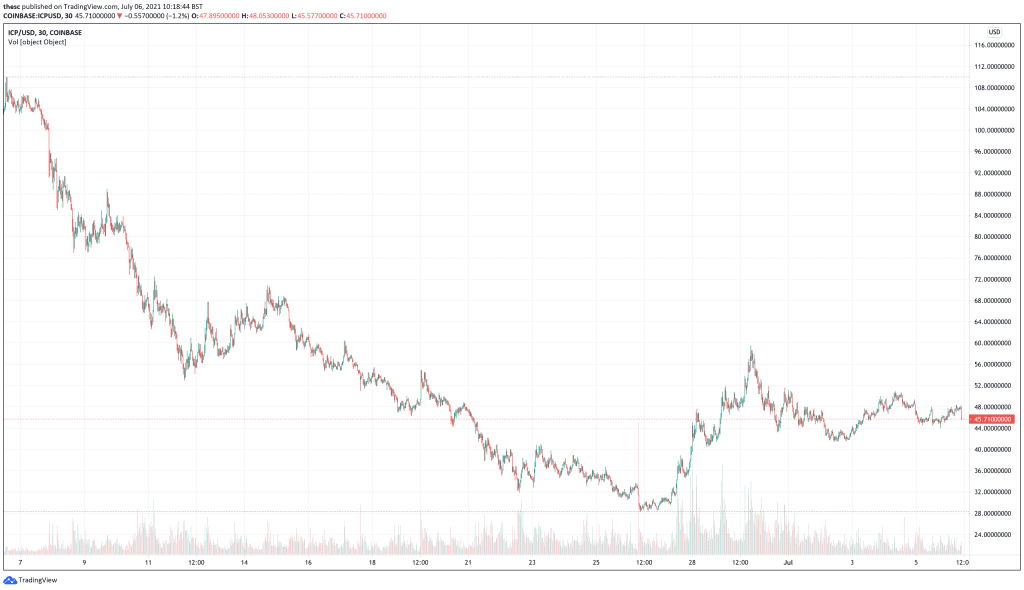 Yes, ICP may have dropped substantially in the couple of months. However, this only underlines how cheap it is right now and how much potential it may have for a strong rebound. Its fundamentals remains as strong as ever, with the Internet Computer platform — which aims to decentralise the cloud — continuing to generate plenty of hype. Most recently, it has begun rolling out NFTs on its network, while new apps it supports have seen strong user interest.
We have hit the 10000 user limit on our test mode! Looks like we have the headroom so limit upped to 20000! https://t.co/2MMIL43sfP

— OpenChat ∞ (@OpenChat) July 5, 2021
Cardano (ADA)
Cardano (ADA) has been one of the strongest recoverers over the past fortnight. At $1.40, it has increased by 18% in the past 14 days, and 5% in the past week. On the other hand, it's 15% down in the past 30 days. And it remains 41% down compared to its all-time high — set on May 16 — of $2.45.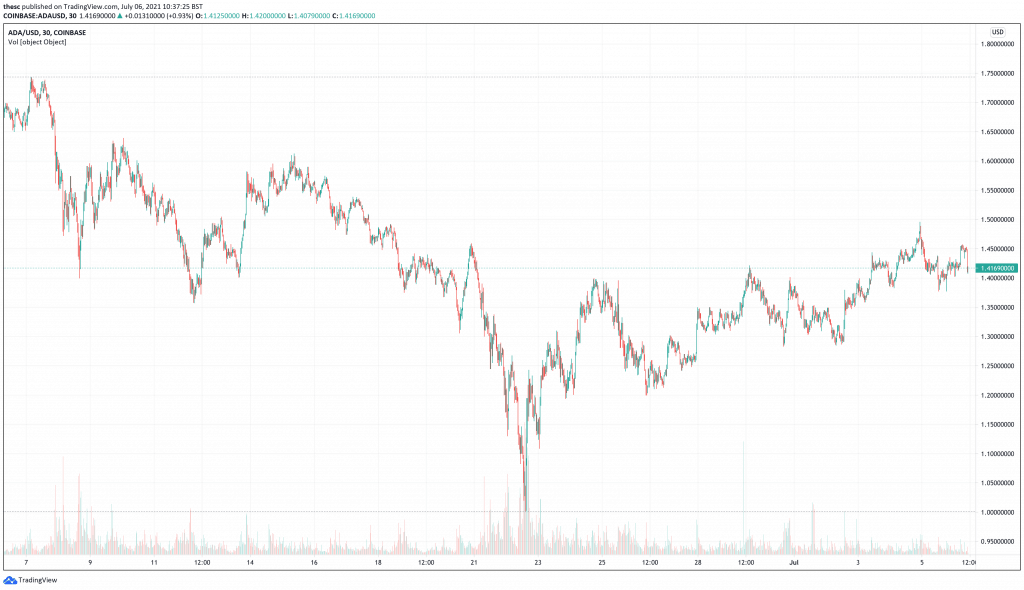 What's interesting about ADA's strong performance is that it has happened before Cardano has even rolled out its smart contract capabilities. These are due at some point in late summer. Once they're launched, and once Cardano actually begins hosting dApps, demand for ADA is likely to increase. And all other things being equal, this will result in price increases, making ADA's current price seem cheap.
This is why ADA is one of the best cryptocurrencies to buy at low prices at the moment.
Today, we are delighted to report we have successfully spun up the first testnet in our #Alonzo rollout. #AlonzoBlue is our early alpha network, providing core Alonzo-node networking capability. 1/2https://t.co/z8shaZeIhq pic.twitter.com/Eg2t9PdM8x

— Input Output (@InputOutputHK) May 27, 2021
Solana (SOL)
Solana (SOL) has had a very strong fortnight, highlighting its capacity for short-term surges. It has risen by 27% in 14 days, to nearly $34. It is, however, down by 14% in the past 30 days. It's also 41% down from its all-time high of $58, set on May 18.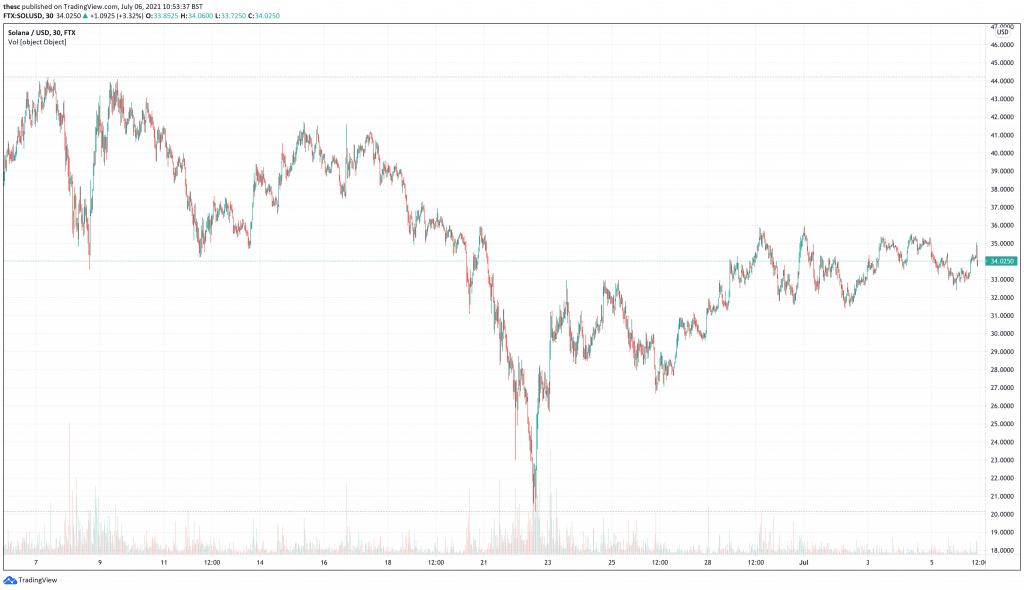 Solana is a web-scale blockchain capable of running dApps. In this respect, it's much like Ethereum, yet its use of a novel proof-of-history consensus mechanism makes it faster and less energy intensive. This feature has made SOL a strong performer in the wake of Tesla's rejection of bitcoin. For instance, it rose by 45% — to an ATH of $58 — between May 12 and May 18.
Of course, it has since fallen by 41%. Nevertheless, this arguably makes it cheap. This is particularly the case when Solana continues to attract interest, with the Zurich-based 21Shares recently announcing the world's first SOL exchange-traded product on the Swiss SIX exchange.
We are pleased to announce the listing of the world's first @solana ETP on the @sixgroup today!

Learn more about our Solana ETP on our website: https://t.co/sQdekxjY73 pic.twitter.com/yFOCuzOFYg

— 21Shares (@21Shares_) June 30, 2021
Compound (COMP)
Compound (COMP) is the best-performing cryptocurrency of the past 30 days. It's up by 15% in the past 24 hours, 60% in the past week, and 125% in the past fortnight. At $504, it's also 30% up in the past 30 days and 150% up in the past year.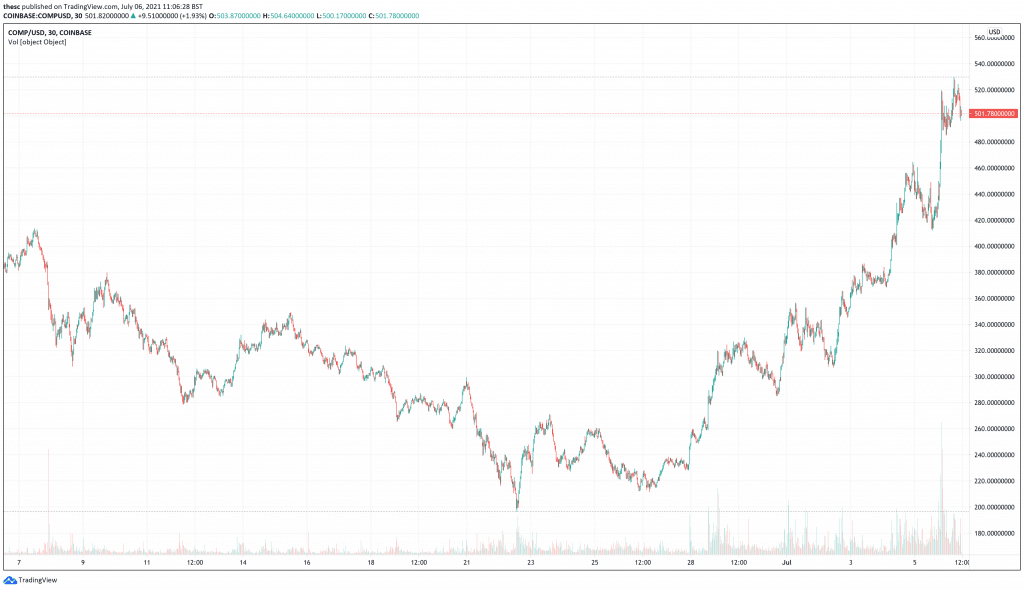 However, COMP is still 44% below its ATH of $910. So despite its impressively strong performance in recent weeks, it's still at a discount compared to its record high. Its fortunes have improved recently largely because of the launch of Compound Treasury. This is a service which lets companies (in California) deposit US dollars into a Compound account, which then grants them a fixed interest rate of 4% per year. This is highly bullish for Compound, insofar as it will increase liquidity entering its ecosystem.
Compound Treasury is currently available to customers in California.

Learn more at https://t.co/4iaoNvTlFj, or contact us at treasury@compound.finance

— Compound Labs (@compoundfinance) June 28, 2021
Capital at risk