5 Best Cryptocurrency To Buy Now – July 2021 Week 1
Cryptocurrencies have been in the media for a number of reasons in the last two years. Some of the reasons have bordered on their volatility and appeal to criminal elements.
However, the one that has drawn the most interest has been their massive returns. Digital assets have outperformed the wider market by a large margin even as the world tries to grapple with the severe impact of the pandemic. In this article, we will explore some of the best cryptocurrency to buy now.
1. Uniswap (UNI)
Beginning our cryptocurrency to buy list is the popular decentralized trading protocol Uniswap.
2. Bitcoin (BTC)
Second in our cryptocurrency to buy list is the world's oldest cryptocurrency Bitcoin. The first digital asset may not be posting double digits but its current surge despite adversity makes it one of our cryptocurrency to buy this July.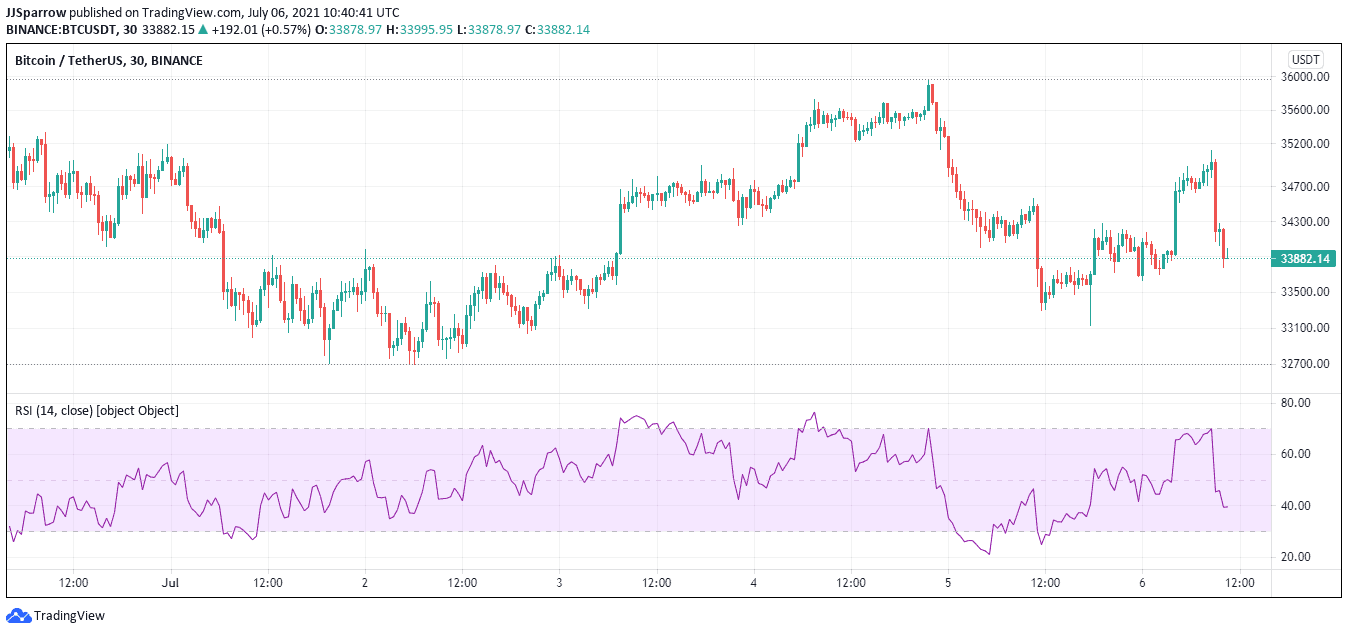 Bitcoin has also played major roles in the growth of the entire crypto industry. Leading the crypto market to a $2 trillion valuation during the peak of the market frenzy, Bitcoin has become the de facto leader of the emerging industry.
In fact, more institutional investors reckon with Bitcoin more than any other digital asset.
This is because Bitcoin commands over 50% of the entire crypto market.
Such a large stake in the emerging space is worth acknowledging. This has led many investment firms to roll out exchange-traded funds (ETFs) for Bitcoin further extending its reach and relevance.
The US Securities and Exchange Commission (SEC) is currently reviewing over eight Bitcoin ETFs. Meanwhile, its Canadian counterpart has approved a number of Bitcoin-focused investment firms who have gone on to receive a lot of positive feedback from the investing public.
Bitcoin has been in the red zone for two months and some now but things seem to be picking up for the large-cap digital asset.
At press time, BTC is up 1.92% and currently goes for $34,871.03.
The fact that it is going for a bargain makes it highly attractive to value-driven investors who can afford to buy low and sell when the price spikes.
3. Aave (AAVE)
Third on our list of cryptocurrency to buy is decentralized finance lending protocol Aave. Aave enables crypto holders to make money from their holdings.
Offering some legacy-backed financial services, Aave users can either lend their holdings into specially created liquidity pools to gain interests.
On the other hand, borrowers get to use their cryptocurrencies as collateral to take out a flash loan using any of the platform's liquidity pools.
Aave allows borrowing and lending in over 20 cryptocurrencies and currently leads the DeFi space with a 15.67% market dominance.
Even though its AAVE native token has seen better days, the DeFi token is currently trading at $321.65, up 16.90%.
It's still set for an uptrend with the 20-day moving average (MA) support trading below the digital token at $242.87. The relative strength index (RSI) is also bullish with the indicator standing at 60.26 on the daily chart.
The DeFi protocol is also targeting institutional investment into the DeFi space.
According to founder Stan Kulechov, Aave will be launching private lending markets for institutional clients later on this month.
4. Compound Finance (COMP)
Another cryptocurrency to buy is DeFi lending protocol Compound Finance.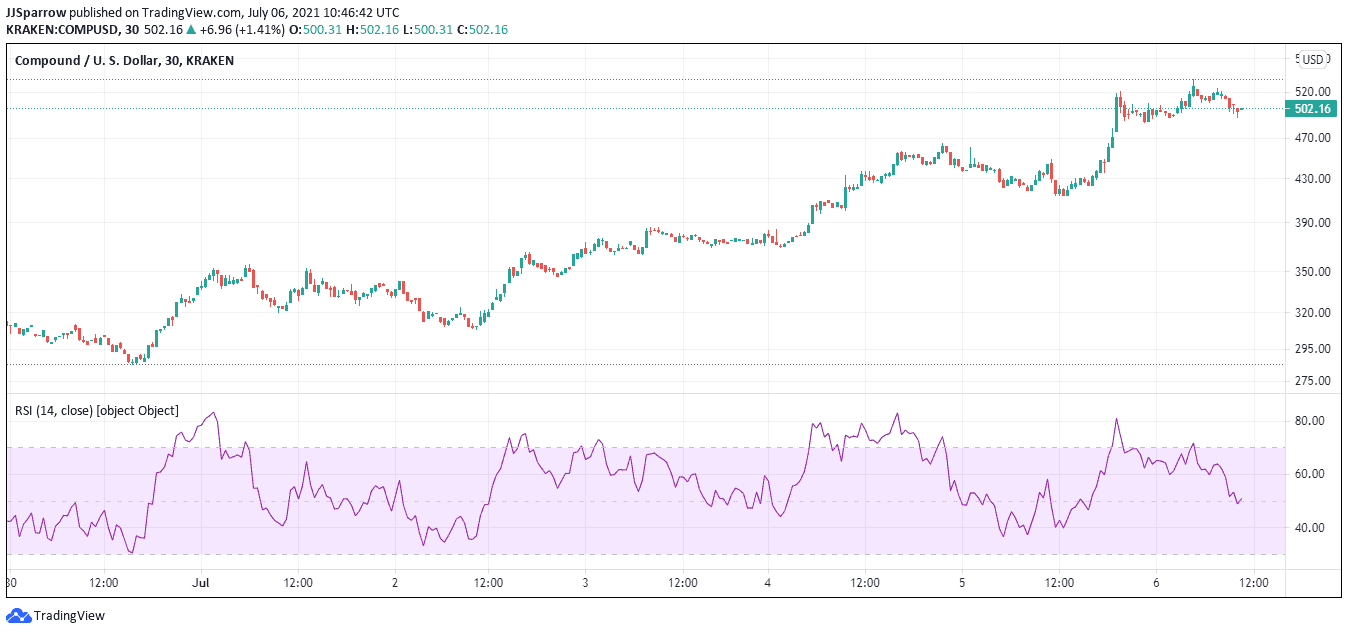 Just like Aave, Compound Finance allows users to earn interest on their cryptocurrency holdings when they deposit into the protocol's liquidity pools.
Deposits are changed to cTokens and this represents a user's stake in the liquidity pool.
These tokens are not fixed and users can redeem them at any time that they want to.
Borrowers from these liquidity pools take secured loans from any of the pools by depositing the needed collateral.
The loan-to-value (LTV) ratio is dynamic and is dependent on the collateral asset.
However, the present LTV stands at 50 to 75% and users whose collateral fall below the expected ratio will face automatic liquidation.
The DeFi protocol uses COMP native token in settling transaction fees in the network and in the platform's governance processes.
COMP has had a remarkable 2021 surging to an all-time high (ATH) of $854.48 days prior to the May crypto market crash.
Even though it subsequently lost 50% of its value in the aftermath, COMP has been trying to rally over the last month.
However, it has not been entirely successful with the DeFi token hitting the $450 resistance level for much of June.
But the token is already catching some tailwind with the broader crypto market. In the last 24 hours, COMP has surged 17.16% to $503.49.
COMP is also making headway into institutional adoption with the protocol launching a standalone company called Compound Treasury.
This company will be focused on enabling new-generation financial service providers to access digital assets directly without going through a third-party.
5. Binance Coin (BNB)
Last on our cryptocurrency to buy list is proprietary coin Binance Coin better known as BNB.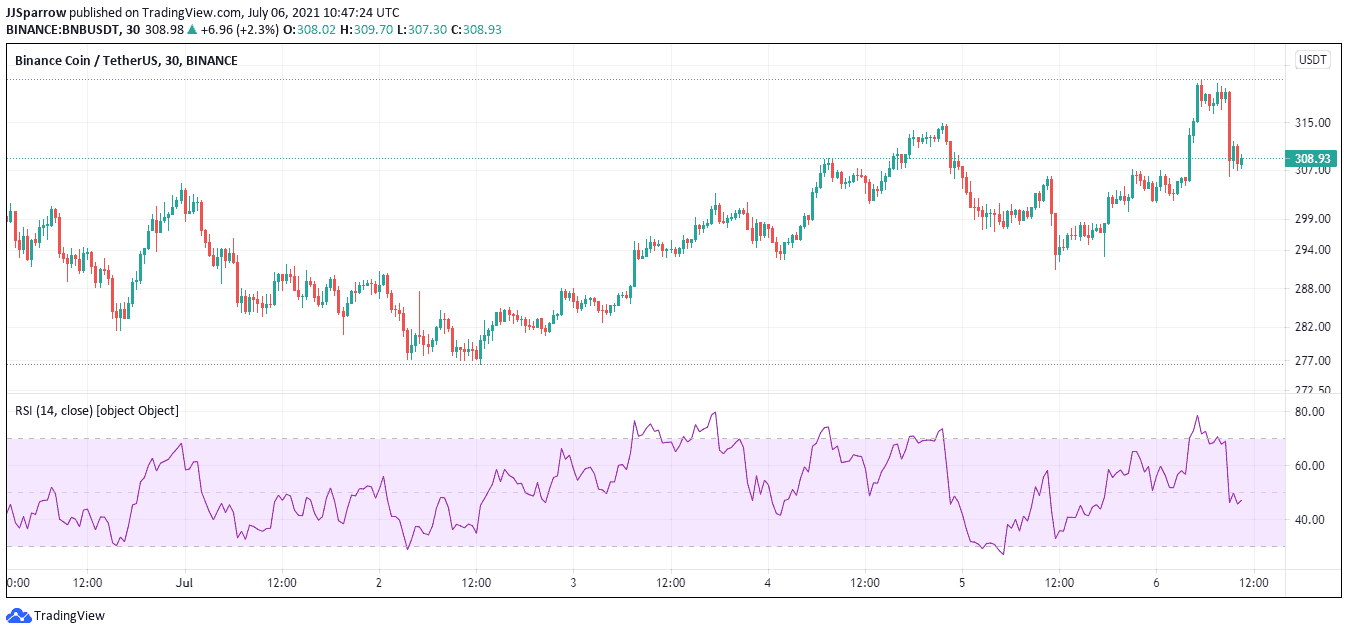 Even though it is used for trading discounts on the Binance crypto exchange, BNB has a lot of growth potential.
The token surged to an ATH of $650 during the April crypto boom. However, it has lost some of its steam and trades below its former price.
At press time, BNB trades at $311.26, up 2.98% on the daily chart. With the Binance platform offering more crypto-related services, BNB's use case will only see it continue to surge in value.
The following cryptocurrency to buy can be bought commission-free on the eToro platform. This means you only need to pay for the digital assets and nothing more.
Capital at risk