5 Cryptocurrency to Buy for Price Recovery This Weekend – December Week 2 2021
The cryptocurrency market is struggling to maintain its value right now. Its total cap is now $2.37 trillion, down by just over 5% since yesterday. Pretty much every major coin has fallen along with the market, with bitcoin (BTC) and ethereum (ETH) dropping by 2.5% and 5.5%, respectively. However, with the market falling or flatlining for a few weeks now, optimism suggests that it's due a rebound. Accordingly, we've put together a list of 5 cryptocurrency to buy for price recovery this weekend. This covers coins that have good short- and long-term potential.
5 Cryptocurrency to Buy for Price Recovery This Weekend
1. Celsius Network (CEL)
CEL is up by 8% in the past 24 hours, reaching $3.86. It has managed to buck the overall market trend because some of the Celsius Network's funds were lost in the BadgerDAO hack last week. This loss resulted in a big fall for CEL, which it's now beginning to make up for. It remains 3% down in the past week, and 14% down in the past month.
CEL's indicators suggest that it has broken out compared to its recent price activity. Its RSI is now just below 70. Its 30-day average has just produced a 'golden cross' with its 200-day average, suggesting that it could continue recovering strongly from its recent fall.
The Celsius Network is a regulated blockchain-based lending platform that enables users to receive interest on deposited cryptocurrencies or take out loans collateralised with crypto. While it has entered the news recently for the wrong reasons, it wasn't itself responsible for its loss of funds, which it had deposited with BadgerDAO.
More importantly, available evidence suggests that the Celsius Network will grow in the future. Most notably, it raised $400m in October from Canada's second-largest pension fund, Caisse de dépôt et placement du Québec, and from VC firm WestCap.
Celsius Network raises $400m. @FT

"The funding round was led by WestCap… and Caisse de dépôt et placement du Québec (CDPQ)." More:https://t.co/L5wpMxCvcR

— Celsius (@CelsiusNetwork) October 12, 2021
2. Bitcoin (BTC)
In many ways, the current bearish environment is all about BTC. It has fallen by 30% since reaching an all-time high of $69,044 on November 10, when the entire market also started slipping. At $48,100, it's down by 2.5% in the past 24 hours and by nearly 15% in the last week. It's also down by 28% in the past month.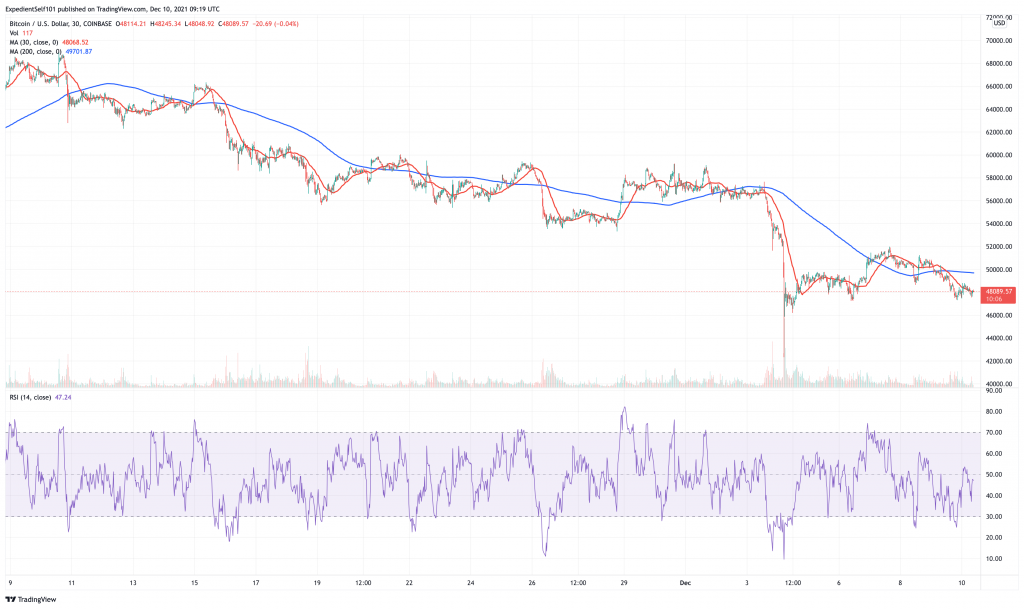 BTC's indicators suggest that it may be ripe for a recovery. Its relative strength index (in purple above) is below 50, meaning it's more oversold than overbought right now. At the same time, its 30-day moving average (in red) has sunk below its 200-day average (blue). This could mean it's nearing a bottom, and that a rebound is due soon.
And if one cryptocurrency in the market is going to recover strongly, it's bitcoin. It continues to attract more outside interest from mainstream institutional and retail investors than other cryptocurrencies. For instance, the Indiana-based STAR Financial Bank launched bitcoin-trading services for its customers on December 2, in partnership with NYDIG and Alkali. And earlier in November, the Commonwealth Bank of Australia announced a similar service for its customers.
It's this kind of interest which underlines why bitcoin is one of our 5 cryptocurrency to buy for price recovery this weekend.
3. Near (NEAR)
At $9.93, NEAR is up by 7.5% in the past 24 hours. It's also up by 20% in the past week, although 13% in the past month.
NEAR's indicators are very strong. Its 30-day average formed a golden cross a couple of days ago, indicating a breakout. Meanwhile, its RSI, at 60, signals good momentum without the crypto being overbought. It could therefore continue rallying over the weekend.
The reason why NEAR is rallying during a very subdued period for the market is that its native platform has rolled out some important upgrades in recent weeks. Last month, it launched Simple Nightshade, an upgrade which will enable sharding on its blockchain. Such sharding will increase its scalability and efficiency, potentially making it faster than other multi-purpose smart contract platforms such as Ethereum.
📣 @NEARProtocol launches Simple Nightshade, the first step towards a fully sharded blockchain!

🔥 Sharding is now live on #NEAR, opening the doors for increased scalability and performance. #MassAdoptionIsNEAR

Learn more 🔽https://t.co/932iDxc2p5

— NEAR Protocol (@NEARProtocol) November 15, 2021
Near also continues to announce a range of partnerships and new app launches on its blockchain. This speaks to its healthy growth, and also highlights why it's one of 5 cryptocurrency to buy for price recovery this weekend.
📣 @auroraisnear is integrating with @fluxprotocol! 🔥

Aurora, the EVM on #NEAR, is integrating with Flux Protocol, a cross-chain oracle aggregator to provide smart contracts with access to secure data feeds.

Flux is now live on Aurora Mainnet!

Learn 🔽https://t.co/4IqJIU6wKd

— NEAR Protocol (@NEARProtocol) December 8, 2021
4. Ethereum (ETH)
As with BTC, ETH is another major cryptocurrency that will lead any market-wide recovery. It's currently priced at $4,077, which is a 5.5% dip over the past 24 hours. It also represents a 10% drop in the past week and a 14% fall in the last 30 days.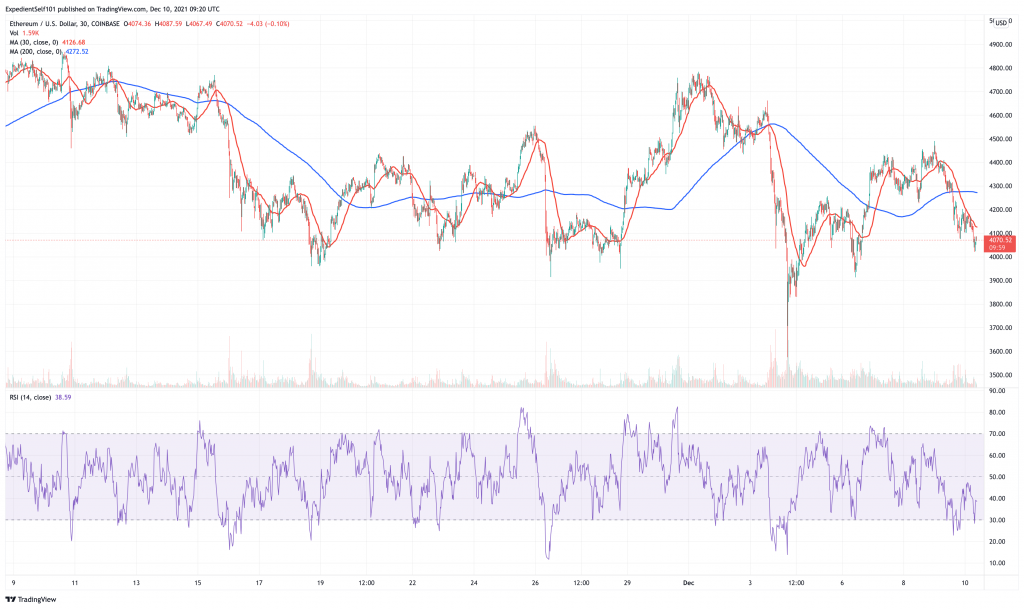 ETH's technical indicators are even more ripe than BTC's. Its RSI slumped to 30 earlier this morning, before recovering slightly to 40. Either way, this suggests that the market is overselling it a little right now. Likewise, its 30-day average appears to be nearing a bottom in relation to its 200-day average.
And also like BTC, ETH has plenty of fundamental reasons why it will be leading any market-wide recovery. It too has been attracting institutional interest in recent weeks and months, with JPMorgan writing in September that at least some institutions currently prefer it over bitcoin.
On top of this, ETH has become marginally deflationary since Ethereum's London upgrade, which introduced fee burning. With rising demand for Ethereum's infrastructure, this would suggest a rising price in the short- and long-term.
$ETH is on the path of becoming deflationary

Crunching some numbers since the EIP-1556 was implemented:
– Over 914,680 ETH has been burned
– Meaning that ~9,056 ETH are being burned daily
– Net Issuance dropped to 0.07% in November, as the percentage of fees burned is ~87% pic.twitter.com/Iggi3Sz5ty

— Daniel Ferraro (@danielferraros) November 17, 2021
Indeed, demand remains high for Ethereum as a network. Its total value locked in is currently $163 billion, representing 65.5% of the DeFi sector. This indicates some serious network effects moving in its favour.
5. Avalanche (AVAX)
AVAX is up by 1% in the past hour, to $86.91. This, however, is a 3% fall in the last 24 hours and a 20% drop in the past week. It's also a 27% decline in the past fortnight, with AVAX down by 39% compared to the record high of $144.96 it set on November 21.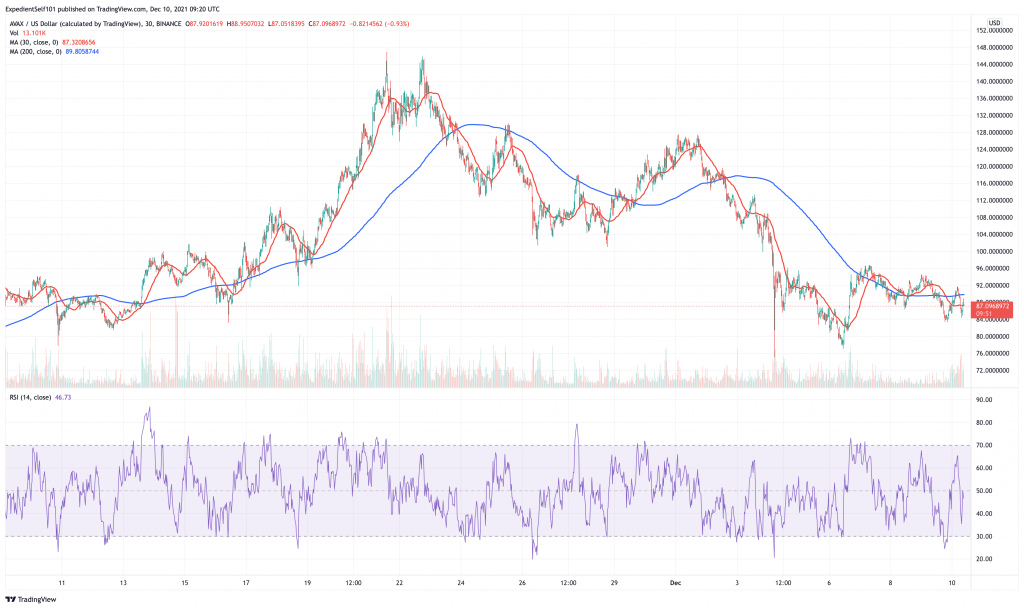 AVAX is another coin with indicators that suggest it could be nearing a rebound. Its RSI is now just under 50, having risen from 40 earlier this morning. Its 30-day average has also just stopped sinking. Again, this could be a sign that it's close to a recovery.
Almost needless to say, Avalanche has very good fundamentals as a smart contract platform. Its total value locked in, at $11.9 billion, represents just under 5% of the DeFi market. This is impressive for a network that was launched basically a year ago.
Avalanche's future growth will also be helped by the $200 million fund it launched in November, which aims to boost development of its ecosystem. Together with its famous $230 million investment from Polychain Capital and Three Arrows Capital in September, this highlights the strong possibility that it could rebound strongly with the market.
The Avalanche Foundation has launched Blizzard, a $200M+ fund dedicated to accelerating development, growth, and innovation across the #Avalanche ecosystem.

Check out the full details below ⬇️https://t.co/AR25D8E2lL

— Avalanche 🔺 (@avalancheavax) November 1, 2021
Thanks to such investment, Avalanche now boasts an ecosystem of nearly 400 projects. This is why it's one of 5 cryptocurrency to buy for price recovery this weekend.
382 projects in 14 months the rapidly growing @avalancheavax ecosystem.$AVAX #AVAX pic.twitter.com/fHBF1wMVDN

— Coin98 Analytics (@Coin98Analytics) December 9, 2021
Capital at risk
Read more: