Bitcoin (BTC) Price Prediction: BTC/USD corrects to $32K as Buyers Recoup to Resume Uptrend
Bitcoin (BTC) Price Prediction – January 11, 2021
BTC/USD has resumed a downward move after three days of correction. The crypto was earlier confined between $38,000 and $42,000. On January 10, the bears broke the $38,000 support signaling a possibility of a deeper correction. The coin has fallen from $42,000 to $32,800 at the time of writing. A further downward move is likely.
Resistance Levels: $45,000, $46,000, $47,000
Support Levels: $35,000, $34,000, $33,000
One factor responsible for the current downward move is that the crypto has remained in the overbought condition for a long period. For example, since December 16, Bitcoin has remained in the overbought condition after breaking the psychological price level of $20,000. Nevertheless, if the bulls have broken the resistance at $41,959, a rally to $45,000 would have been achieved. However, the overbought condition has propelled the downward movement of the coin. On the downside, the BTC price has fallen below the $36,000 and $34,000 support levels. The implication is that a further downward move to $29,500 is likely. The upside momentum would have resumed if the broken support levels hold.
Bitcoin Is Insurance against Uncertainty, by Chamath Palihapitiya
Bitcoin is not an asset tied to governmental control or authority. According to venture capitalist and billionaire, "Bitcoin is a hedge against global uncertainty". He told CNBC in an interview that Bitcoin will reach $200,000 in the next five or ten year's time horizon. He said: "The reason is that every time you see all of this stuff happening, it just reminds you that wow our leaders are not as trustworthy and reliable as they used to be". "So just in case, only do need to have some kind of, you know; insurance we can keep under our pillow that gives us some access to an uncorrelated hedge."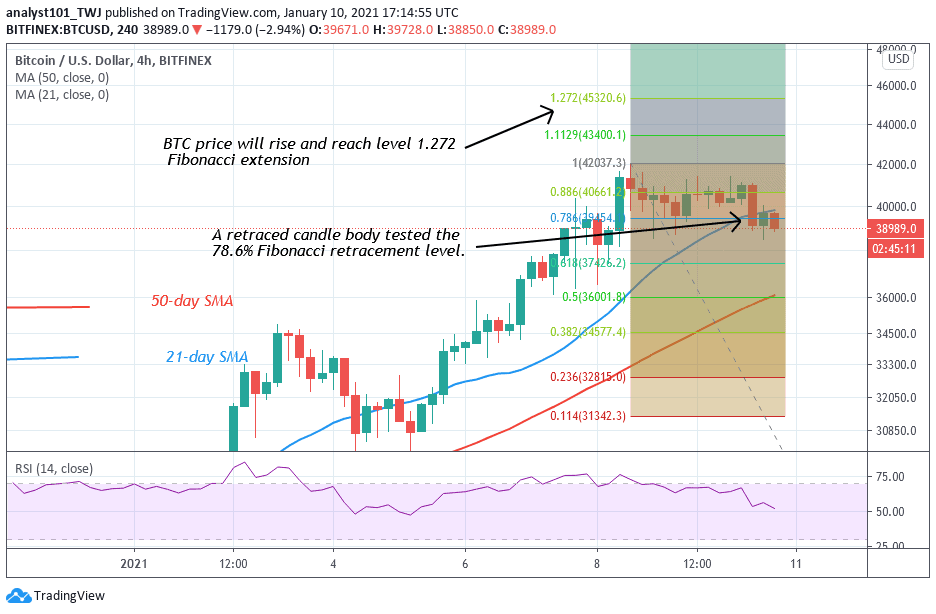 Nevertheless, Bitcoin has fallen to a 32,800 low and resumed upward. The upward move will resume if the current support holds. On January 10 downtrend; a retraced candle body tested the 50% Fibonacci retracement level. This implies that the coin will fall to level 2.0 Fibonacci extensions. That is, Bitcoin will reach a low of $29,480.20. However, the BTC price has dropped to $32,800 and resumed upward.