Bitcoin (BTC) Price Prediction: BTC/USD Faces another Rejection as Bitcoin Struggles Above $47,000
BTC/USD Fluctuates Below $50k as Bitcoin Struggles Above $47,000 – December 14, 2021
On December 12, Bitcoin bulls were repelled at the $50,800 high as Bitcoin struggles above $47,000. This is an indication that the upward move has been restricted below the $50,000 psychological price level. The rejection caused the BTC/USD to decline to $45,788 low as bulls bought the dips.
Resistance Levels: $70,000, $75,000, $80,000
Support Levels: $50,000, $45,000, $40,000
Following the December 4 price collapse, BTC price is making a series of lower highs and lower lows. On December 12, BTC's price made a lower high of $50,800. The resistance has caused price movement to be restricted below the psychological price level. The rejection has caused Bitcoin to continue to decline on the downside. The bulls and bears are contending for price possession above $47,000 support. The bears appear to have the upper hand as they pushed the crypto to the low of $45.788 before the bull's intervention. Buyers and sellers are on the last price struggle above $47,000 support. The upward move has been restricted below $50,000. In the same vein, if the bears breach the current support, the market will decline to $41,634 or $39,678.
Dogecoin Is Better Than Bitcoin for Payment, by Elon Musk
In a Time Magazine interview, Elon Musk has been named Time's 2021 Person of the Year. Tesla CEO Elon Musk believes that Bitcoin is not that good for everyday payments when compared with the meme-based cryptocurrency Dogecoin. "Bitcoin is not a good substitute for transactional currency; even though it was created as a silly joke. Dogecoin is better suited for transactions. The total transaction flow that you do with Dogecoin, like transactions per day, is much higher potential than Bitcoin," Conversely, "Dogecoin is not that good as a store of value, noting that the cryptocurrency is "slightly inflationary." However, this "encourages people to spend, rather than sort of hoard as a store of value," he stated. The Tesla CEO agreed that Bitcoin is more suitable as a store of value, which is why its investors prefer to hold it rather than sell it or use it for payments. "The transaction volume of Bitcoin is low, and the cost per transaction is high,"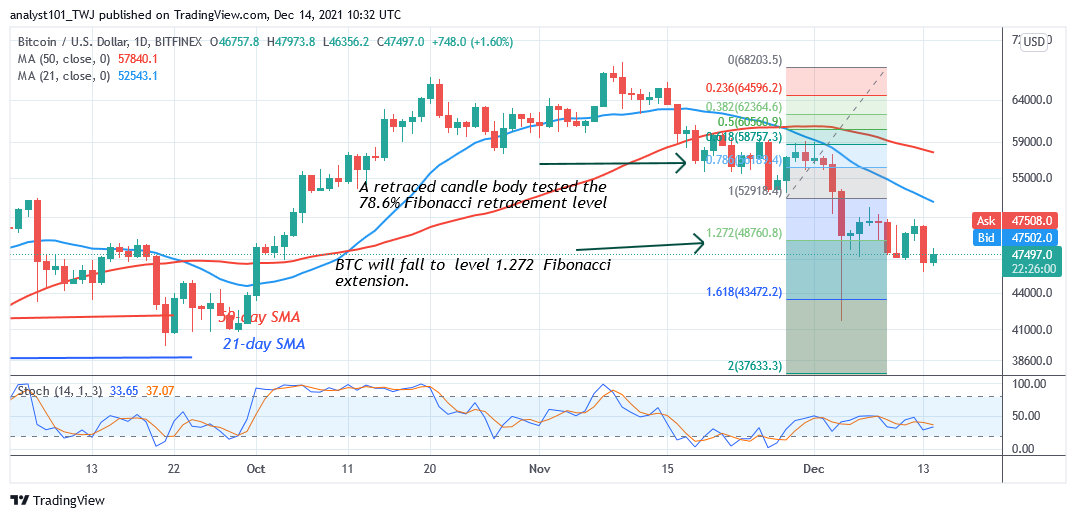 Yesterday, BTC's price slumped to $45,788 low but the recovery was short-lived as Bitcoin struggles above $47,000 . The price tussle has continued as bears continued to push prices downward. The current upward move was stalled at the $48,000 high as sellers threaten to short. Today, BTC/USD has dropped to $46,734 at the time of writing.
Looking to buy or trade Bitcoin (BTC) now? Invest at eToro!
68% of retail investor accounts lose money when trading CFDs with this provider
Read more:
•                     How to buy cryptocurrency
•                     How to buy Bitcoin