Bitcoin (BTC) Price Prediction: BTC/USD Is in a Tight Range between $34,500 and $38,000, Breakout is Imminent on the Upside
Bitcoin (BTC) Price Prediction – January 20, 2021
BTC/USD is now trading in a tight range. On January 11, the BTC price was fluctuating between $30,000 and $40,000. Nevertheless, on January 15, the price movement has been confined in a tight range between $34,500 and $38,000. This is an indication that a breakout is imminent.
Resistance Levels: $45,000, $46,000, $47,000
Support Levels: $35,000, $34,000, $33,000
As price narrows in a tight range, Bitcoin breakout is imminent and most likely on the upside. The king coin has been trading marginally with small body candlesticks called Doji and Spinning tops. The candlesticks are describing the indecision between buyers and sellers as to the direction of the price movement. Nevertheless, traders are waiting for Bitcoin to breakout before buying. In other words, the price will rise to break the $38,000 and $41,969 resistance levels.
The $41,969 resistance may act as a stiff resistance to Bitcoin's upward movement. On the upside, if buyers can push BTC above $45,000, the bullish momentum will extend to $50,000 high. Conversely, if the bullish scenario fails, the bears will use the advantage to break the $34,000 support. BTC price will decline to $29,600. However, further decline below this support will attract deeper correction.
Bible Quotation Is Discovered in Bitcoin Block Number 666,66
A Biblical message has been discovered in block number 666,666 of the Bitcoin blockchain: "Do not be overcome by evil…" A hidden Biblical message has been found implanted in a transaction in block number 666,666 of the Bitcoin blockchain. This message is from the New Testament, and to the Epistle to the Romans. It reads: "Do not be overcome by evil, but overcome evil with good – Romans 12:21.
The transaction in question saw an equal amount of Bitcoin — 432,100 satoshis ($160) — sent to two different addresses. The first several characters of those addresses contain the words "God" and "Bible. The sender of the transactions paid over $50 in fees, equating to five times more than Bitcoin's peak average transaction fee. This implies the sender's goal was to have their transactions, and message, included in block 666,666 specifically.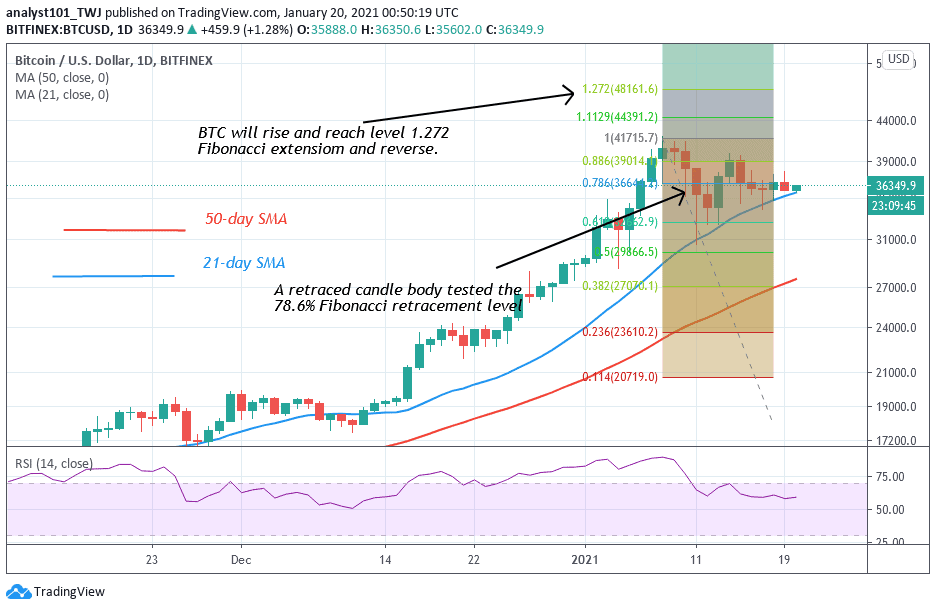 Nevertheless, Bitcoin is now confined in a tight range as traders wait for the next move. On January 8 uptrend; a retraced candle body tested the 78.6% Fibonacci retracement level. The retracement level suggests that BTC price will rise to level 1.272 Fibonacci extensions or the high of $48,161.60.