Bitcoin (BTC) Price Prediction: BTC/USD Is Range-Bound between $30k and $34k, Faces Rejection at $34k
Bitcoin (BTC) Price Prediction – January 25, 2021
BTC/USD has survived the $30,000 support on January 11 and 21 after the bears threatened to sink the coin below the support. Bitcoin bulls have successfully defended the current support but have failed to break the $34,000 resistance on the upside.
Resistance Levels: $45,000, $46,000, $47,000
Support Levels: $35,000, $34,000, $33,000
On January 21, the bears failed to break the $30,000 support as the price pulled back on the upside. The following uptrend was repelled at the $34,000 high. However, after three days of correction, the upward move was rejected at the $34,000 resistance. This is an indication that the BTC price is likely to further decline. The bulls failed to resume the upward move. However, on January 11, breakdown, the bulls bought the dips as price rallied to retest the psychological price level of $40,000.
Today, sellers have pushed BTC price below the $34,000 support. Nevertheless, for the past five days, Bitcoin has been fluctuating between $30,000 and $34,000.On the downside, if the bears succeed in breaking below the $30,000, it will result in a deeper correction for Bitcoin price. The coin will further decline to the low of $25,800. Conversely, if the bulls are successful, a break above $34,000 resistance will signal the resumption of upside momentum. A retest at the previous highs is likely.
Holding Bitcoin Is as Safe as Owning Bonds and Gold, by Anthony Scaramucci
Anthony Scaramucci is the head of SkyBridge Capital and former White House communications director. He introduced a new Bitcoin fund in early January and indicated that improved infrastructure and regulation have made BTC investments "as safe as owning bonds and commodities like gold." In an opinion article published on CNN, Scaramucci and fellow SkyBridge executive, Brett Messing maintained that Bitcoin has become a viable option for long-term investors seeking refuge from inflation.Bitcoin is less risky to hold now than it was a few years ago when regulations and infrastructure were still underdeveloped. In December, SkyBridge Capital made a big splash as it applied with the U.S. Securities and Exchange Commission to launch a Bitcoin hedge fund. SkyBridge reportedly invested in Bitcoin during November and December, allowing it to accumulate a large position in the digital asset before its parabolic spike. Today, SkyBridge claimed its BTC exposure was worth approximately $310 million.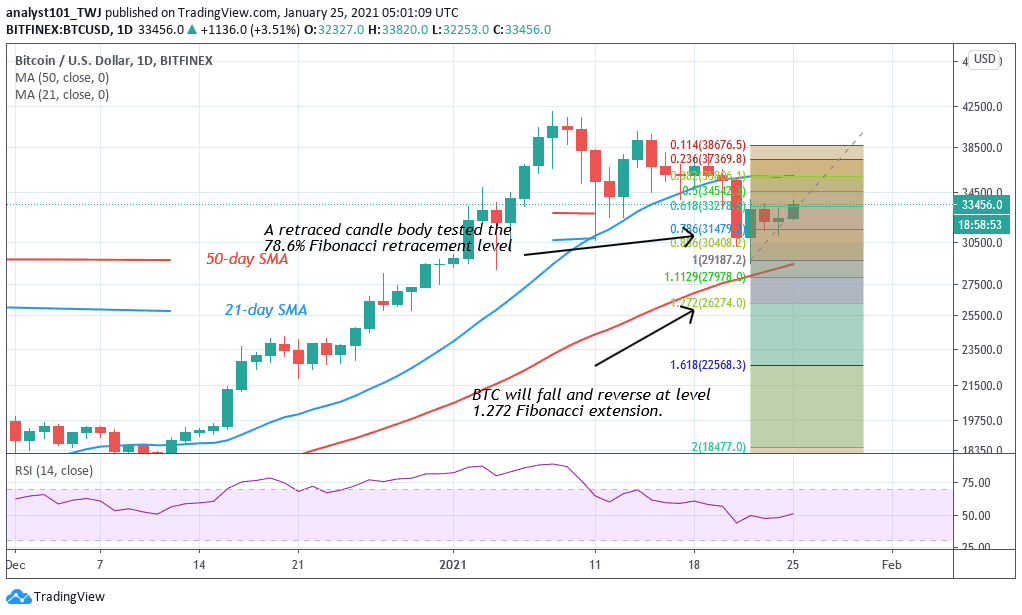 Meanwhile, Bitcoin has fallen and it is fluctuating between $30,000 and $34,000. The Fibonacci tool has indicated a further decline if the $30,000 support is breached. On January 21, a retraced candle body tested the 78.6% Fibonacci retracement level. The retracement indicates that the market will fall and reverse at level 1.272 Fibonacci retracement level. That is Bitcoin will reach a low of $26274.0