Bitcoin Price Prediction: BTC/USD Consolidates Below $24,000 Resistance, Amidst Bullish Expectation
Bitcoin (BTC) Price Prediction – December 20, 2020
Yesterday, BTC/USD rallied to $24,000 but faces rejection at the recent high. In the previous article, it was explained why Bitcoin won't attain the $25,000 price level. In the meantime, the coin is fluctuating between $23,200 and $23,800
Resistance Levels: $23,000, $24,000, $25,000
Support Levels: $13,000, $12,000, $11,000
Bitcoin is yet to break above the $24,000 resistance level. In the meantime, the crypto has continued to consolidate below the resistance. Nonetheless, if the consolidation persists after three days, BTC will encounter a breakout or breakdown. Many traders have anticipated a possible breakout because BTC is expected to reach a high of $25,000.
Conversely, a breakdown is also possible on the downside. A breakdown from the recent high will plunged the coin to $18,500. In the first instance, BTC was consolidating above this support before the recent rally that broke the $20,000 resistance. Analysts believe that verticals rallies are not sustainable. Bitcoin can have a breakdown.
Bitcoin Adoption Rises in Nigeria as Central Bank Blocks Remittances in Naira
Nigerians have been pushed toward Bitcoin and crypto adoption as a result of the " Naira defense" policy by the Central Bank of Nigeria. Reports have it that Bitcoin (BTC) volume in Nigeria continues to rise as Africa's largest economy. According to Quartz Africa, data from the Bitcoin P2P marketplace Paxful platform shows that Nigeria is second to the United States in trading volume.
In a related development, on Dec. 16, the CBN directed international money transfer operators (IMTOs) to cease processing diaspora remittance payments in naira. This is in line with a new policy of allowing Nigerians to receive international payments in their domiciliary accounts. According to the Central bank directive the two IMTOs — TransferWise and Azimo were not authorized to operate in the country.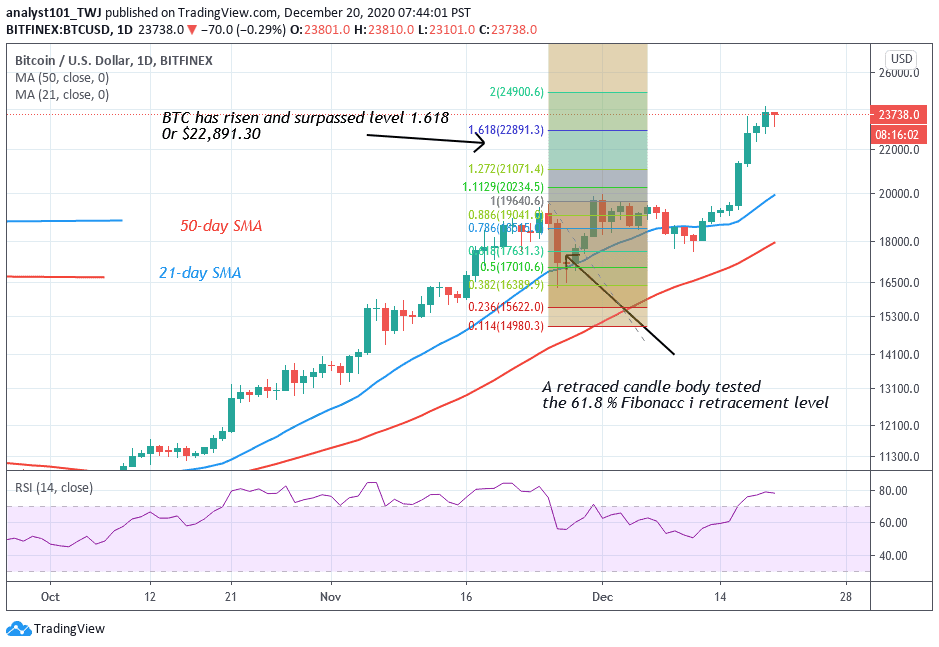 Bitcoin is still fluctuating below the $24,000 resistance. From the price action, the BTC price has already broken above the initial target price at level 1.618 Fibonacci extensions. This is equivalent to $22,891.20.30. The crypto is expected to reach the $25,000 mark, once the $24,000 resistance is breached.