Bitcoin Price Prediction: BTC/USD Currently Trades Around a Lowly Value of $36,000
Bitcoin Price Prediction – January 17
After several a visible number of trial efforts to breach past a main resistance price line around the $4,000 value, Bitcoin's worth eventually relaxes muscle as trade with the US dollar until the present time of writing.
BTC/USD Market
Key Levels:
Resistance levels: $45,000, $50,000, $55,000
Support levels: $25,000, $20,000, $15,000
BTC/USD – Daily Chart
There has been a notable sell signal looming in the
What is likely the BTC/USD next price position?
In the meantime, a key resistance value at $40,000 has formed to mark a potential selling point for bears to brace up for a come-back. The BTC/USD bears now struggle to push the market down below $35,000. The Stochastic Oscillator has briefly crossed hairs to the south below range 80 to signify a falling pressure.
Should the present slight-falling forces hold long in the BTC/USD trading activities, bears could potentially move price past the former tested support trading area of $30,000 to afterward find a lower support level around $25,000 mark in no time. Meanwhile, at that earlier mentioned value, traders should be wary of getting late as there is a tendency that the market will see a quick-northward reversal move that could result in bears' trap.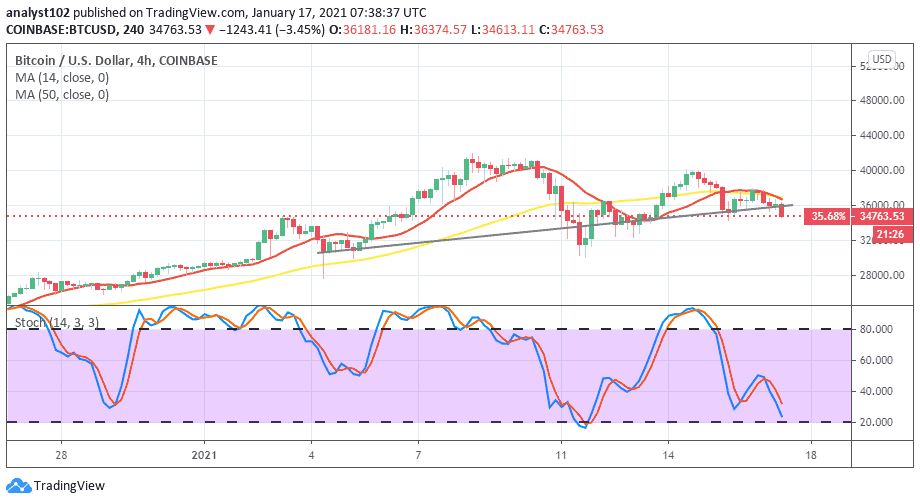 BTC/USD 4-hour Chart
Over a few trading days' sessions, BTC/USD has been trading around three key variant levels of $40,000, $36,000 and, $32,000. Initially, the crypto's value dumped below $32,000 and, later on, managed to recover back to touch a high mark at $40,000 on January 14.
Presently, price appears to fall under the $36,000 value, a bit below the two SMA trading indicators. That suggests that bears are some extent coming back to the crypto-market. But, Stochastic Oscillators have moved downward-pointing closer to range 20. Therefore, if the $32,000 price-line has to be breach southwardly, bears would have to exert more pressures to keep below it