Bitcoin Price Prediction: BTC/USD Recovers from Recent Breakdown, Battles the $18.6k Resistance
Bitcoin (BTC) Price Prediction – December 10, 2020
On December 9, BTC dropped to $17,890 low because of its inability to break the $19,740 to $20,000 resistance zones. The bulls have bought the dips as the price reached a high of $18,600. BTC/USD is facing an initial resistance in its upward move.
Resistance Levels: $13,000, $14,000, $15,000
Support Levels: $7,000, $6,000, $5,000
The recent breakdown was anticipated to reach a low of $16,000. However, Bitcoin bulls made a quick recovery as the bulls buy the dips to push the crypto to $18,600. From the price action, BTC is going to retest the $19,500 resistance zone. The previous price action is likely to be repeated. Buyers may attempt to push BTC above the $19,600 and $19,740 resistance zones.
Once these resistance levels are breached, BTC will rally above $20,000. This implies that the resumption of the upward move is likely. Conversely, if the bulls fail to break the $19,740 to $20,000 resistance zone, the king coin will face another round of selling pressure. Perhaps, the bears will push the coin to $16,000 low. Nonetheless, a further downward move will mean that the bears have the upper hand.
In 2020, Privacy Wallet Laundering Is up but Illegal Bitcoin Use Is down, Says Analytics Firm
Elliptic is a leading firm in blockchain analytics has indicated that 2020 will be the year of privacy wallets, as more exchanges are onboard KYC requirements. Also, there was a shift in recent trends in illicit crypto use. That is the proportion of Bitcoin transactions that the firm has linked to criminal activity is way down when compared to its 2012 peak. Elliptic's David Carlisle indicated that: "The most significant trend we observed was the increasing use of privacy wallets such as Wasabi Wallet in the laundering process.
In 2020 at least 13% of all criminal proceeds in Bitcoin were sent through privacy wallets, which are up from just 2% in 2019." Nevertheless, according to reports, Elliptic has a limited range of knowledge over the origins, criminal or otherwise, of funds going through these privacy wallets. Tom Robinson told Coin telegraph: "In general, we can't — we can see what's going in and what's coming out, but we can't link the two together."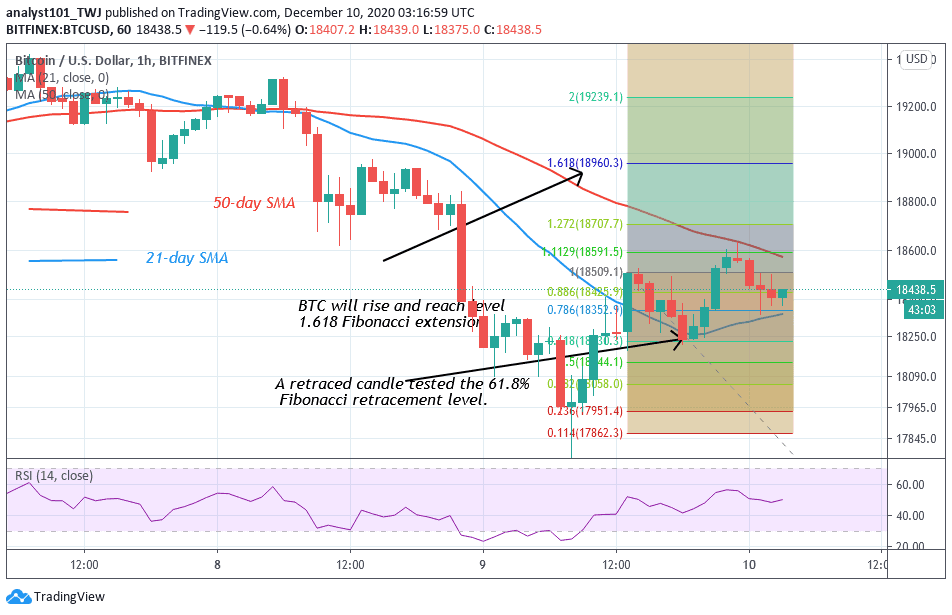 Nevertheless, Bitcoin has resumed upward after the recent breakdown. On December 9 uptrend; a retraced candle body tested the 61.8% Fibonacci retracement level. The retracement indicates that Bitcoin will rise and reach level 1.618 Fibonacci extensions or the high of $18,960.30.