Bitcoin Price Prediction: BTC/USD Resumes Upside Momentum, but Hovers Above $23000 Support
Bitcoin (BTC) Price Prediction – December 18, 2020
Following the recent breakout above $20,000, Bitcoin rallied to $23,500 and pulled back. BTC/USD fell and retested the $22,400 support with candlesticks with long tails. The candlestick with long tails indicates that a further downward move is not possible because of strong buying pressure at lower price levels. Meanwhile, the price action is indicating bullish signals as the market resumes upward.
Resistance Levels: $23,000, $24,000, $25,000
Support Levels: $13,000, $12,000, $11,000
Yesterday, the BTC rally crossed the $22,540 price level and reached another high of $23,500. This indicates that there is a possibility of a further upward movement of the coin. Traders believe that if the first target is crossed, the market will reach a high of $25,000. Today, BTC is resuming a fresh uptrend after a minor retracement. The price has risen above $23,000. However, a further downward move is doubtful. The Relative Strength Index is indicating that BTC is above 75. That is the king coin is trading in the overbought region of the market. The coin may not have enough room to rally on the upside.
Urgent Plea by Pierre Rochard to Prevent Auction of $1.6 Billion Bitcoin Seized From Silk Road Hacker
Pierre Rochard has sent an urgent plea to lawmakers to prevent more than $1.6 billion worth of seized Bitcoin from being auctioned. He proposed to the lawmakers to put the confiscated coins into a strategic BTC reserve. On Dec. 16, Rochard warned against the auctioning of 69,370 Bitcoin seized by the IRS in November. It was stolen by an alleged Silk Road hacker.
The U.S. Attorney's Office has filed a civil complaint about the forfeiture of the BTC. According to Pierre Rochard, he said: "If the U.S. wants to maintain its leadership, both financially and also in science and technology, then we should develop a Bitcoin reserve fund at the federal level," he said, adding: "In the first instance, get the seized coins into it, but then as we move forward, we're going to want to add to that reserve as well."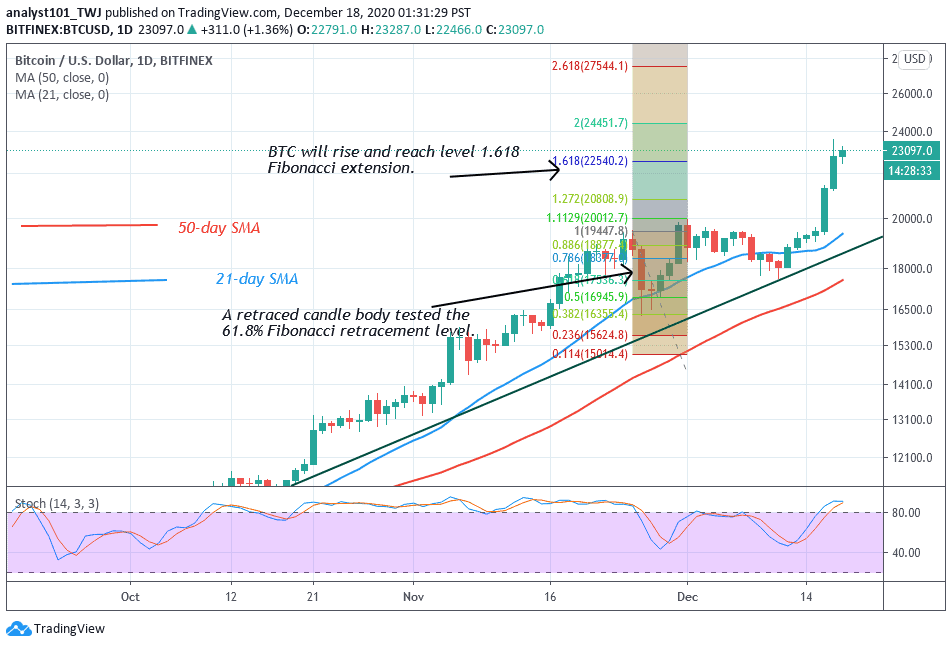 Meanwhile, the BTC price is still fluctuating below and above the $23,000 price level. The Fibonacci tool has already indicated an upward movement of the coin. A retraced candle body on November 26, has tested the 61.8% Fibonacci retracement level. The retracement gives the impression that the market will rise and reach  level 1.618 Fibonacci retracement level. That is Bitcoin will reach a high of $22,540.20. The price action has surpassed this level.