Bitcoin Price Prediction: BTC/USD Slumps After Failure to Break the $19,740 to $20,000 Resistance Zone
Bitcoin (BTC) Price Prediction – December 9, 2020
Yesterday, the bears broke the $18,500 support which has been holding since November 30. The bulls have been defending the $18,500 support which has facilitated the upside range momentum. BTC/USD has dropped to $18,290 and there are indications of further downsides.
Resistance Levels: $13,000, $14,000, $15,000
Support Levels: $7,000, $6,000, $5,000
Since November 24, Bitcoin bulls have made concerted efforts to penetrate the $19,740 to $20,000 resistance zone. The consolidation between $18,500 and $19,740 could have provided a breakout at the resistance zone. However, the continued selling of BTC by miners and the exchanges selling their earnings from fees are the two making breakout challenging for BTC price.
Because of this buyers have provided strong support for BTC in the $18,500 and $18,600 support zone. This support zone has been holding for the upside momentum. Nonetheless, yesterday, the bears broke the support zone as the coin dropped to $18,2947. Traders believe that if Bitcoin continues to drop below $18,500, the $16,000 support level could be tested before the resumption of upside momentum.
Wells Fargo Report Labels Bitcoin as Speculative Investment
A San Francisco-based bank Wells Fargo has released a report concerning cryptocurrency investment in today's world. According to the report, Bitcoin was the best performing asset in 2020, and it highlighted its volatility for investors. Wells Fargo indicated that: "Cryptocurrency investing today is a bit like living in the early days of the 1850's gold rush, which involved more speculating than investing."
The report also noted the role of cryptocurrency in the financial market, saying "they attract lots of attention, but not necessarily lots of investment money." Meanwhile, an investment strategy report indicated that the banking giant noted that Bitcoin is up by170% this year and outperformed both gold and the S&P 500 Index.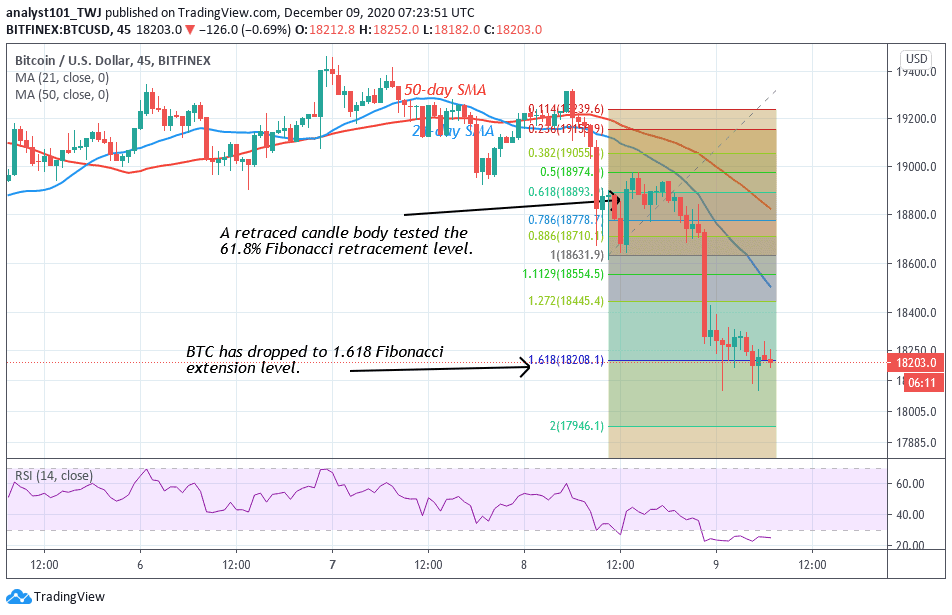 Meanwhile, BTC has fallen to $18,247 at the time of writing. The recent fall was the result of the bulls' failure to break the $19,740 to $20,000 resistance zone. On December 8 downtrend; a retraced candle body tested the 61.8% Fibonacci retracement level. That was the reason the coin fell to level 1.618 Fibonacci extension or the low of $18,202.10. From the price action, a further downward move is unlikely because of the presence of candlesticks with long tails. The long tails indicate that there is a strong buying pressure at a lower price level. Therefore the support may likely hold.