Bitcoin Price Prediction: BTC/USD Struggles to Gain Momentum After Sliding Below $18,000
Bitcoin (BTC) Price Prediction – December 11, 2020
Today, BTC/USD slumps down below $18,000 to retest the December 9 low of $17,760. For the past three days, BTC has been fluctuating between $17,760 and $18,600 price levels. Of recent, the $18,600 has been the major impediment to Bitcoin's upward move. In the meantime, the bulls have bought the dips as Bitcoin moves up.
Resistance Levels: $13,000, $14,000, $15,000
Support Levels: $7,000, $6,000, $5,000
Following Bitcoin rejection at the $19,600 and $19,400 resistance level, the king coin has been fluctuating between $17,760 and $18,600 price levels. The coin has been fluctuating to break the $18,600 resistance. The bulls made four moves into $18,600 resistance zone to break the current resistance. Buyers could not push BTC above $18,600.
Consequently; Bitcoin slumped to the previous low at $17,760. However, the recent fall is seen as a sign of weakness of Bitcoin for the past few days of fluctuations. Meanwhile, the buying pressure between $17,700 ad $17,900 is very significant to propel BTC upward. At the support region, the candlesticks are showing long tails. The long tails signify that there is strong buying pressure at lower price levels.
France May Ban Anonymous Crypto Accounts to Prevent Money Laundering
As of December 9, several ministries are preparing new frameworks to prevent anonymity in crypto. The law is to prevent anonymous digital asset transactions by banning anonymous crypto accounts. French financial authorities are focused on preventing illegal activities like money laundering and terrorism financing using anonymous crypto accounts. The new regulation is backed by French finance minister Bruno Le Maire, Sébastien Lecornu, and junior economy minister Olivier Dussopt.
According to the report, the ministries have admitted that digital assets or cryptocurrencies provide "significant opportunities for the economy," noting that the French government is fully aware of its importance. On the other hand, the reports agreed that crypto also comes with significant risks related to an illegal financial activity. For example, the September 2020 arrests involved a terrorist illegal financing network using crypto accounts to cover their tracks.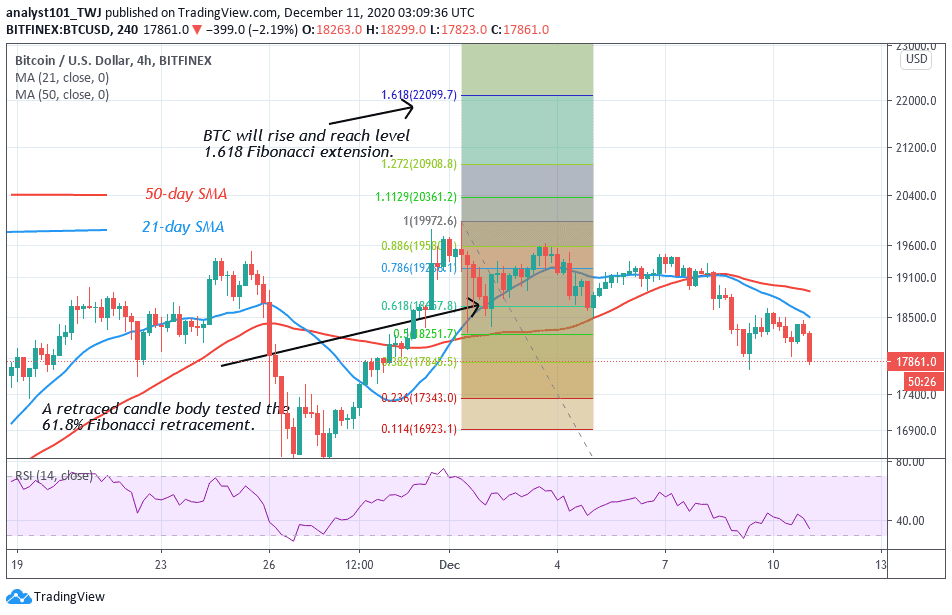 Meanwhile, Bitcoin has recovered from the recent fall below $18,000. From the Fibonacci tool analysis, the tool indicates a further upward movement of the coin. On November 30 uptrend, a retraced candle body tested the 61.8% Fibonacci retracement level. This retracement indicates that the coin will rise and reach level 1.618 Fibonacci extensions. That is the king coin will reach a high of $22,099.70.